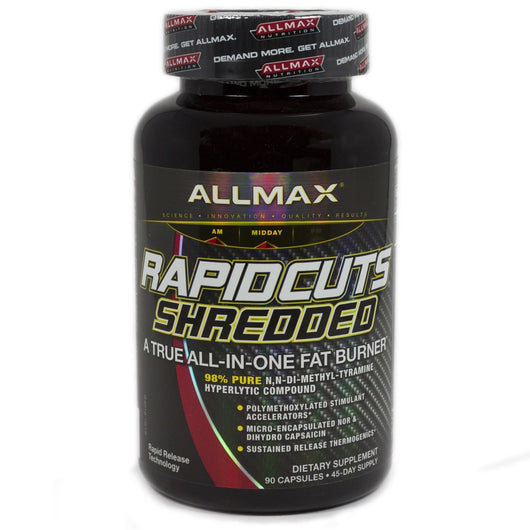 Allmax RAPID CUTS SHREDDED ALL-IN-1-FAT-BURNER Thermogenic Weight Loss 90 Caps
Regular price $ 0.00 $ 19.99 Sale
Item #: 121358   |   UPC #: 665553201757   |   Brand: AllMax Nutrition   |   Size/Form: 90 Capsule   |   Ship Weight: 0.40   |   Servings: 90   |   Dosage: 1 Capsule(s)

AllMax Nutrition - Rapidcuts Shredded All-In-One Fat Burner - 90 Capsules

AllMax Nutrition Rapidcuts Shredded All-In-One Fat Burner is pure, unadulterated fat-shredding potency. The most concentrated, pharma-grade ingredients known to fat loss science have been brought together to give you the kind of rapid, accelerated fat-shredding power you demand.

* Clean Label Protocol: Complete Declaration
* Sustained Release Thermogenics
* 17 Rock-Solid Ingredients Inluding Green Coffee Extract
* 20:1 Pure Cinnamon Extract

Rapidcuts is simply the strongest, most advanced and most comprehensive fat burning product. Rapidcuts was created with a single focus; to create a formula specific to and exclusively for fat loss. Rapidcuts is recommended as an effective addition to diet and exercise to achieve mind-blowing results. Other weight loss formulas may be ok for average users, but Rapidcuts is an extreme formulation for extreme results.


Target, Release, Ignite, Fat-Burning Technology:

* Target: Supports normal, healthy Cortisol, Insulin and Thyroxine. These compounds immediately prime the body and initiate an environment ideal for rapid fat release.
* Release: A Dual-Action Fat Release Stimulant that signals fat to be released from fat cells after they have been targeted and supports normal, healthy cellular cAMP via two distinct receptor pathways, Beta Receptors and G Protein Receptors. cAMP (3',5' cyclic adenosine monophosphate) is the key cellular messenger that signals fat cells to release fatty acids into the system to be used for energy.
* Ignite: A Fat Combustion Accelerator (or Fatty Acid Oxidation process) that IGNITES and fat by supporting normal, healthy metabolic function and mitochondrial uncoupling proteins (UCP). This process effectively ignites (or oxidizes) released fat in the body. Additional ingredients also help extend the fat burning process after initial consumption for a prolonged effect.
Warnings: Consult a health care practitioner prior to use; if you have high blood pressure, glaucoma and/or detrusor instability, if you are of childbearing age, pregnant or breastfeeding, if you have diabetes, if you are taking lithium. Consumption with other caffeine-containing products is not recommended, or with natural health products which increase blood pressure is not recommended. This product is not intended as a substitute for sleep. KEEP OUT OF REACH OF CHILDREN.  This is not a prescription product.