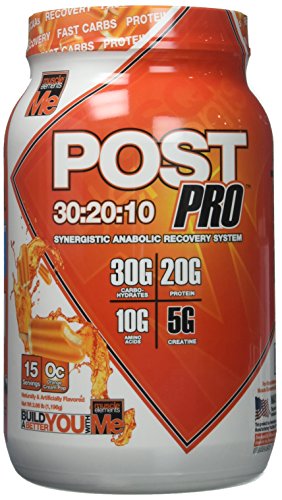 Muscle Elements Post Pro Orange Cream Pop
Regular price $ 54.99 $ 44.99 Sale
Research has repeatedly shown the importance of consuming fast-digesting carbohydrates, such dextrose, immediately following post-workout to rapidly replenish depleted glycogen stores. Your typical post-workout supplements most likely include some form of rapid-digesting carb and maybe even some BCAA or L-Glutamine, but they neglect the most important component of post-workout nutrition…
PROTEIN!!!
The market hasn't had many post-workout products but has seen some new comers as of late.  However all they have done is continue to riddle the market with incomplete, questionably effective and overpriced post-workout supplements. Muscle Elements said "enough" and decided to develop a true post-workout supplement. One that not only refuels muscle glycogen, but also promotes recovery and fuels muscle repair and growth.
Warnings: Not for use by those with pre-existing medical conditions or taking any medications, those under the age of 18, or women that are contemplating pregnancy, pregnant or nursing. Keep out of reach of children and pets. Results vary from user to user.  This is not a prescription product.
What is Post Pro?
Post Pro is the only complete post-workout meal solution that enhances recovery and fuels the muscle building process. In addition to including refueling glycogen stores and supporting muscle repair, Post Pro also includes a full 5 grams of creatine, to replenish depleted ATP stores and further enhance lean mass gains.
But that's not all.
Post Pro includes 5 grams each of BCAA and L-Glutamine to reduce post-workout soreness and accelerate muscle recovery following those tough workouts. We haven't forgotten about the importance of rehydration and the negative effects of inflammation, either, as Post Pro provides coconut water powder and Tart Cherry powder enhance hydration and reduce inflammation, creating the best environment for lean muscle growth and recovery.
Suffice it to say, Post Pro is the Complete Post-workout Meal!
Post Pro Benefits
30g fast-digesting carbohydrates for rapid glycogen replenishment
20g whey protein (12gm WPI and 8gm WPC) for muscle repair and growth
5g BCAA to stimulate muscle protein synthesis
5g Glutamine to support recovery and decrease soreness
5g Creatine to replenish ATP stores and aid lean mass gains
Post Pro Ingredients:
Dextrose (25g) - rapid-digesting carbohydrate that accelerates glycogen replenishment post-workout. As a simple sugar, dextrose is ideal to use post-workout, as it takes advantage of the heightened insulin sensitivity and will be used for repairing muscle tissue as well as force-feeding your muscles the other muscle-building nutrients in Post Pro.
Whey Protein (20g yield) - fast-digesting protein that supplies your muscles with the essential amino acids needed to support and enhance muscle recovery, repair, and growth following intense exercise. Post Pro utilizes a unique combination of 13.34g 90% Whey Protein Isolate (yielding 12g protein) and 10.15g Whey Protein Concentrate 80% (yielding 8g of protein) providing a total of 20g protein per serving. Using two forms of whey delivers the perfect combination of ultra-rapid digestion, and higher protein content, of whey isolate with the superior taste/texture, and beneficial lactoferrins/immunoglobulins, of whey concentrate. 
L-Glutamine (5g) - conditionally essential amino acid that minimizes muscle breakdown and enhances protein metabolism. Glutamine serves to enhance recovery following training as well as maintain cell volume and hydration, two highly important factors during and after exercise. 
Creatine (5g) - an amino acid naturally produced in the body that enhances ATP regeneration and lean mass gains. Post Pro provides 5 grams of creatine per serving from a combination of 4 grams of creatine monohydrate and 1 gram of creatine hydrochloride, the two most prominent forms of the popular ergogenic.
Tart Cherry Powder (400mg) - improves recovery and reduces muscle pain induced by high intensity exercise. Tart cherry powder is a premium-grade powder of tart cherry juice loaded with the same antioxidants and anthocyanins contained in the actual juice which combats exercise-induced inflammation, decreases muscle damage and aids strength recovery following exercise.
Coconut Water Powder (300mg) - natural source of electrolytes, particularly potassium, which helps combat the dehydrating effects of exercise and restore electrolyte balance in the post exercise period. Coconut water powder may also help offset any possible cramping that may results from electrolyte depletion during exercise.